We fill new and existing prescriptions in-store, by phone and online.
Transfer your prescriptions to our pharmacy using our simple and secure online transfer form.
Visit us in store or get in touch with a member of our pharmacy staff. We're always happy to assist you.
Our Services
Where We Are Rooted in the Community

Aundrea K.
"Omg! Talk about quality! Have you ever walked into a pharmacy and felt at home? Exactly, me either, until I walked into Oakhurst. The cashier was genuinely nice and the pharmacist knows his craft AND has a pleasant demeanor. In this day and age it's so refreshing. I appreciate being treated like a valued customer even though it was my first time there. I'll see you soon for my next vaccine... you rock Oakhurst!

Carolyn C.
"Amazing staff. Been going to the usual chain of pharmacists and switched to Oakhurst about two months ago. Wonderful staff !!! I had to call Greg tonight about a Covid test and he was so patient and understanding as I proceeded to tell him my whole Covid story. Tara and I highly recommend Oakhurst Pharmacy."

Suzanne O.
"I absolutely love and appreciate this pharmacy. After the headaches of the 'big box' pharmacy, I decided to go local and I kick myself for not going sooner. Great pharmacist, great staff, and modern notifications (they'll text you when your prescription is ready). I cannot recommend them enough. Also, you can get certain vaccinations here, too!!"
Oakhurst Pharmacy combines high quality products with personalized care. Our staff will be happy to help you with any questions you may have.
We offer a wide variety of services including conventional prescription filling, immunizations, kids vitamin club and much more.
Check out our weekly health news blog, or subscribe to our newsletter and receive updates on health articles, promotions, specials and much more.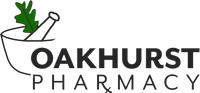 We'd Love to Hear From You
At Oakhurst Pharmacy, we're committed to helping you live a healthier life. Our pharmacy staff would be happy to help you with any questions you may have.